At Busche's Garage I offer a full range of services for your Classic Motorcycle. I specialize in most Classic Bike brands from Japan, Britain and Europe from 1960s to the mid 1990s. This is the place where Classic Bikes Live, Again.
WAITING LIST FOR NEW WORK
Most bikes I see here at Busche's Garage require major work due to their age, neglect or poor workmanship previously performed on the bike and because of that I have had to go to a first come, first served waiting list for new work coming into the shop. It is also the only fair way to handle taking work into my shop. There can be many months wait from the time you go on the waiting list until I will let you bring your bike in to the shop to have the work done. I do not have room to store your bike for months until you come to the top of the waiting list. I generally have 4 -5 jobs on the go in the shop at one time and many will be here for several months so do your planing accordingly. I reserve the right to not accept your bike into the shop. No, I will not put you ahead of other people on the list because you think it's a quick job! I will make appointments to do some regular maintenance items if I feel that is the case, mainly for customers who have had their bike worked on here in the past because I know your bike and it's condition. I have had many Classic Bikes come through the door for a small job only to find major SAFETY related problems that need repair and that messes up my work schedule. IF THAT IS NOT ACCEPTABLE TO YOU THEN I AM SURE YOUR LOCAL DEALER WILL BE HAPPY TO WORK ON YOUR CLASSIC MOTORCYCLE. I want this to remain enjoyable for me and as I get older I have had to slowed down a bit and the waiting list allows me to handle the demand at a pace I can continue well into the future.
Please contact me early in your planing process to get on the waiting list
COST OF WORK
Busche's Garage labour rate is $75.00 per hour and is charged according to the amount of time spent working on your bike as recorded by my time clock on your work order regardless of the estimated time required. My pricing does not include HST tax. I am required to collect and remit the HST by Federal law. Some  jobs I have set a flat rate for such as Tire Changes. My flat rate times do not include extra time required to fix problems discovered such as badly rusted rims. I will always let you know before I proceed if such things are encountered.
Working on Classic Bikes is always an adventure and unless your bike was just assembled out of a long lost new bike crate from the factory (and that probably needs work) it has issues relating to safety, performance and appearance. My goal is to help you own a good performing, SAFE and good looking Classic Motorcycle that you can be proud of. When the new bike owners come striding all the way across the Tim Hortons parking lot to Eww and Ahh over your Classic, it is worth it.
PAYING FOR WORK
Most jobs will require a deposit before work begins and many will require monthly installments as work proceeds. I am not a Bank, Financing the project is your responsibility and you should insure you are able to pay for the completed work before committing to authorizing the work. The reason for the deposit is to enable me to secure the required parts for your job. Experience has shown that many parts become unavailable or out of stock if not purchased immediately after availability is determined during the estimate process. Large jobs, such as restorations, will be invoiced on a monthly basis for that months labor and parts. Please note that when you sign the authorization on the work order an express mechanics lien is acknowledged and that if forced to I will seize your vehicle and sell it for non payment. No work will leave the shop until fully paid for. I require the final invoice to be paid within 1 week of completion. I accept Intrac, Visa and MasterCard as payment methods, NO CASH and NO CHEQUES please.. As a plea from a business owner that pays way to much to process your Credit Card, I ask that all my customers please make arrangements at your end to pay me with an Interac Card when possible. Please see pricing below and contact me if you have any questions.
ESTIMATES
I can give you a verbal estimate based on my experience and your description of what you feel is needed but it will be just my opinion. Usually you will require an estimate of the cost of the work you want done to determine a budget, I will perform a non-refundable estimate with a written report covering the labor, parts and sub-let costs to perform the required work and give you some options. Then you and I know what is really required and can proceed from there with a plan to get your baby purring again, that is why the estimate is done,. This will be performed at the time your bike comes into the shop after being called in off the waiting list. The estimate usually takes 1 – 3 hours and includes the time it takes to find and price the rare parts that will be required, for a basically complete bike. Busche's Garage estimates are not a binding quote of the final price for the completed work because of the nature of working on Classic Motorcycles. I endeavor to be as accurate as possible when preparing the estimate but 27+ years of experience has shown that there are always hidden surprises that a visual inspection can not uncover. I will charge $69.00/Hr for whatever time it takes to do an estimate for, what are in my opinion,  basket cases. Contact me to discuss your project and get on the waiting list.
MAIN SERVICES
The services I offer for your Classic Motorcycle can generally be split into 4 basic categories. Maintenance, Mechanical Restorations, Complete Restorations and Shop Services. See below for information and please contact me if you have any questions or to get on the waiting list. My labor is covered by a 30 day warranty from the date the completed vehicle is delivered to you.
Maintenance
This kind of work can be done by appointment if I feel it is in my opinion really maintenance related. This would include regular maintenance items required according to the maintenance schedule for your model of bike such as Oil changes, Valve adjustments, Carb adjustment, Timing adjustments, Tire changes, cable lube and the like. On Classic Bikes, regular maintenance is critical to keeping them running their best after you have spent the money to get them that way. This kind of work will generally takes 1 to 6 hours + parts to do, depending on the model. $75.00/Hr.
Mechanical Restorations
This category covers most of the work I do in the shop. An example of work that falls into this category would be like this. You buy an old CB750K3 that the owner said is in good condition. It's 40 years old with 56,000 miles showing on the odometer. You think it's in good shape but bring it to me for a once over and carb sync because it's a little hard to start and wonder why it's a little hard to push. After I do an estimate we discover that all the systems are suffering from time and mileage and require rebuilding to make the bike SAFE and perform as it was designed or better. This kind of work returns the bike mechanically to like new condition and includes such things as removing the front end and replacing the head bearings, new fork seals, rebuild the front brakes, rebuild the carbs, fix oil leaks from engine, rebuild the rear brakes, rear suspension work, replace bearings, fix electrical, and so on. It could include paint touchup and cleanup/polishing and more.
All old bikes, unless you get them in perfect condition need some variation of this work to make them SAFE and work right. Over time the poor old things get hacked on by well meaning owners and as they pass the time maintenance gets neglected. Classic Bikes are great to own when they work right but when they don't, there is no joy. The cost of this kind of work is wholly dependant on the starting point of your bikes condition. $75.00/hr. See an example of a complete restoration HERE
Complete Restorations
This means completely disassembling the motorcycle, inspecting it and returning the bike to as shipped condition. This would only be cost effective if your bike is in very good or better condition. On the other hand, maybe it's your baby and money doesn't mater, it's going to be new again. Either way the estimate will show the way to a cost effective Restoration of your Classic Motorcycle. $75.00/Hr. See an example of a complete restoration HERE.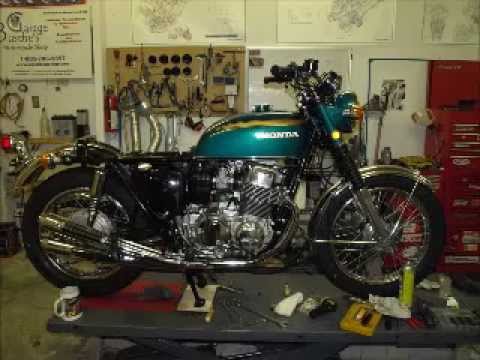 Shop Services
Tire Change/Balance
– by appointment –
Off the bike $30 (plus weights)
On the bike $50 (plus weights)
Spoke Wheel Services
re-truing, rim replacement, re-spoking $75.00/Hr
– .5 – 3Hrs/wheel depending on condition and operation –
Carb Rebuilds
approx. 1 hour per carb + parts
– labor to repair any problems is extra at $75.00/Hr
–  any polishing is extra.
Cylinder Head Rebuilding
Seat Cutting $20/seat + cleaning, inspection, dis/reassembley time at $75.00/Hr.
Valve Spring Testing $5.00/valve
Valve Guide Replacement $35/guide with head rebuild (other contact me)
Cylinder Honing /Boring
$65.00/cyl. (first oversize). Boring cylinders for larger over size pistons or big bore pistons is charged at $75.00/Hr (contact me)
–  All cleaning is extra –
Engine Rebuilds
–  complete bike required – requires tuning, carb rebuild and setup –
– engine painting –
– other situations contact me –
Inline 4 Cylinder Example
stock type motors 35+/Hrs labor + parts + machining
performance motors – 50+ Hrs labor + parts + machining
Twins a little less
Singles a little less than that.
Labor accounts for about 2/3 to 3/4 of the cost of an engine rebuild on a stock good condition motor. The cost to rebuild your Classic Motor is different for each motor. (contact me if you have questions)
Polishing
(available for bikes in shop for work)
.5/Hr – 3/Hr per piece + supplies depending on size, condition and complications.
Clear coating of polished parts is extra.
Electrical Work $75/Hr
Race Preparation $75/Hr
Customization $75/Hr